Allen Bates in the Civil War
The Brief Service of Allen Bates of Dudley, Massachusetts

By Gary Rea, Great-Great Grandson

October 27, 1864, Allen Bates enlisted in the 1st Massachusetts Heavy Artillery, Union Volunteers. After training at Gallop's Island, in Boston Harbor, Allen was assigned to Company F, which had been formed in August 1864 and was assigned to protect Fort Warren, in Boston Harbor, so Allen never saw any combat during his brief tour of duty.

According to records in the National Archives, Allen was reported AWOL (Absent Without Leave) on November 13, 1864, however, he was in a hospital at the time, suffering from "rheumatism and inflammation of the lungs", a condition he no doubt acquired from exposure to others in his unit who had fallen ill. The 1st Massachusetts had a total of two officers and 241 enlisted men who died of disease during the unit's Civil War activity.

While in the hospital, Allen paid a physician to deliver a note to his commanding officer, explaining his whereabouts and condition. However, somehow, the note was never delivered, and subsequently, Allen was charged with desertion, the penalty for which was death.

Fortunately, on April 10th of 1865, Allen was found innocent by a hearing. His health still poor, he was prematurely discharged on April 28, 1865. There were several men of the 1st Massachusetts Heavy Artillery who were hung for desertion, so Allen Bates was a very lucky man.

Allen returned to Dudley, Massachusetts after his Civil War service. He married Mary Catherine Wheelock and they had two daughters, Clara and Esther. The Bates family moved back and forth between Massachusetts, Iowa and Minnesota, finally settling, in 1870 in Tracy, Minnesota, where Allen opened a store and restaurant. He retired and, on November 28, 1927, he died at the age of 82.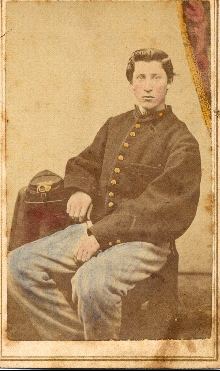 Allen Bates, age 19, at Gallop's Island, Boston Harbor, October 1864. Photo by A.W. Joslin, a relative of Allen Bates